Honoring All Veterans on Veterans Day
Thank you for your service and sacrifices.
K1USN was on the air Thursday November 11th, 2021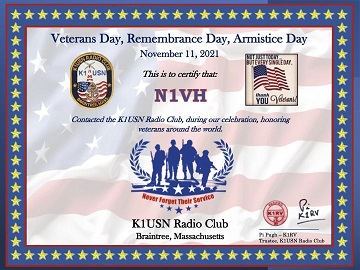 Thanks to all who made contact with our K1USN stations!
We now have a new version of our QSO Certificate for 2021.
Certificates, in Adobe PDF

format, will be emailed to those who submit a request.
If you made contact with K1USN on Veterans Day 2021 and would like a certificate,
please fill out this online request.